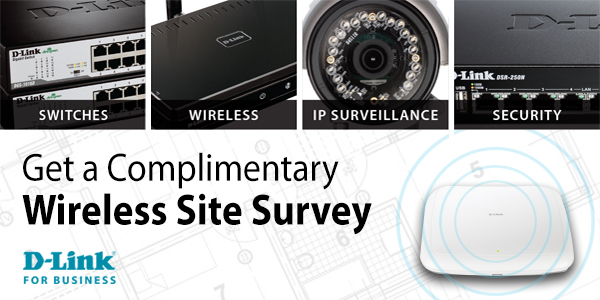 Complimentary Wireless Survey Report from D-Link
For a limited time, D-Link is offering a FREE Wireless Survey Report.
D-Link's Wireless Survey Report will include*:
Recommendations on the number of Access Points

Suggested location of each Access Point

An overview of the projected signal coverage to allow for Seamless Roaming and Load Balancing
between Access Points

Recommended Bill of Materials

Discount on BOM when purchased within 30 of the delivery of the Site Survey Report or BOM​
*In order to generate the report D-Link will require a map layout of the floor plan.
Fill out the form below to schedule your Wireless Survey.
For more details on the Complimentary Wireless Survey Report or the complete line
of business products for the Canadian market contact your D-Link representative at:
1-800-354-6522 x 4049
dlinkforbusiness@dlink.com
www.dlink.ca




Privacy Policy
D-Link Networks, Inc. 2525 Meadowvale Blvd., Mississauga, ON, L5N 5S2